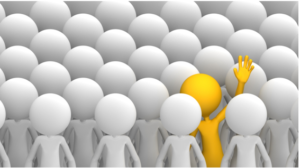 Equipment manufacturers and their distributors are becoming increasingly concerned about the cost of acquiring new businesses. Virtually every dealer is subsidizing the cost of every new piece of equipment sold.
There are effective ways of dealing with the problem, but the big question is are dealers and their salespeople willing to embrace solutions that are working for others? So what are others doing? They are getting noticed.
Your next customer is looking for you right now. He just doesn't know where to find you. And that's because you look just like all the others dealers. If you want to reduce your new equipment acquisition cost and get picked you've got to change that.
Step 1. Get over your scarcity mentality. There is plenty of business out there. If you've got 50% market share, and I hope you do, there's still 50% more to get. Get after it.
Step 2. Specialize in something (And don't let it be the low price leader in your sales territory). What are the biggest problems your customers and prospects have that your products and services solve? Specialize in that. Specialize in serving the biggest (Non-National Account) end users in your territory. Specialize in converting Class IV and V users to Class I (hint: skip lead acid batteries and go straight to lithium). Whether you've noticed or not, that where the forklift industry is headed anyway.
Step 3. Read Joe Pulizzi's book, Content Inc., and begin using content in your businesses. Content works and it's the least expensive thing you can do to impact the growth of your distributorship.
Step 4. Ask for referrals. Research shows the 69% of end users are willing, if asked, to refer their equipment and service providers. In larger companies ask for a referral to different divisions within the company.
Step 5. Reward your clients. We made up a list of over 40 low-cost things you can do to reward your clients for their business. I know one company that sends personalized thank you notes containing $10 lottery tickets to what he considers to be his most valuable customers. He swears that customers continue buying just to get lottery tickets. There are so many different things you can do to say, thank you!
Get noticed! Stand out from the crowd. Ask for the business, or get someone who specializes in your industry to do that for you. But get proactive.
Almost 30 years ago Warren Buffet wrote an article that is worthy of your attention about what he called the Institutional Imperative (see The Institutional Imperative). I encourage you to read it and then think about the implications of that article in your business. Then Get Picked!
If you'd like to know more about how we can help your distributorship grow revenues by increasing sales to your existing customers and taking customers away from your competition, we invite you to contact us here.